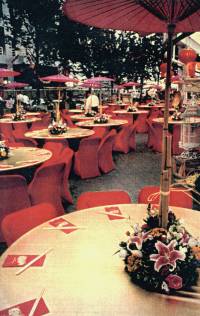 Whether personal or corporate, themed parties are a fun way to escape and enter another time and place. All Events Planning Services excels at creating a setting that is both authentic and engaging. Come up with your own concept, or choose from some of our creative event ideas...
Treasure Hunts
Casino Night
Amusement Park
Mini-Golf
Sports Night
Hooray for Hollywood
Who Wants to be a Millionaire?
Medieval Banquet
Western Night
Island Getaway

Mystery Whodunit
Fun at the Circus
Night at the Opera
50's Night
Cotton Club
Costume Ball
Night in the Orient
Mexican Fiesta
Shakespearean Festival
Alice in Wonderland
The ideas for your party are unlimited! Think festive, historic, romantic... but above all, FUN!
Hawaiian Tropic
King (or Queen) of the World
Greatest Event on Earth
Copyright 2002 All Events Planning