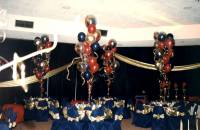 All Events Planning is committed to making your next step in life memorable. Imagine yourself on the dance floor with all your friends and family, a spectacular light show, giant video wall and fabulous effects, all with your favourite music and videos. Later, you can participate in many of the fun-filled games we will plan over the course of the event. All Events can make all this happen and more!
Because of our experience, we ensure that both the adults and children are enjoying themselves on this special day. We can also coordinate all of the traditional Bar/Bat Mitzvah ceremonies, such as the Grand Entrance, the Candle Lighting, the Motzi over the Challah (blessing over the bread) and the Hora celebration. Whether you require kosher services, photographers, gift items, bar servicing and licensing, transportation or hotel accommodation, we will work with you to determine the needs that best suit you.
By taking care of all the planning for you, and by paying personal attention to all your specific needs, you can relax and enjoy the celebration.
Entertainment
Dramatic Dining
Fun Themes
Copyright 2002 All Events Planning