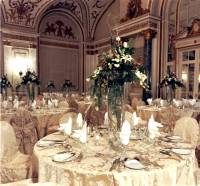 This is your special day. You have so much to think about and you need to feel confident that everything will be taken care of so you can relax and enjoy the moment. At All Events Planning Services we understand this and will work with you to handle all the arrangements and planning to make your wedding as memorable and as beautiful as you can imagine.
From invitations and accommodations, to décor and entertainment, we will customize your wedding, banquet or reception with a full range of services in a cost efficient manner. The staff at All Events will also act as a consultant for you, listening to your needs and guiding you through the many difficult decisions, proper etiquette, and intricate details, helping you to avoid costly and disappointing mistakes. We can provide as much or as little guidance as is required, and can even be a calming influence when so much is happening around you.
We can create the wedding of your dreams. Here is just a sampling of some of the things we can do for you...
Lavish Indian Weddings
Traditional Jewish Weddings
Beautiful Outdoor Weddings
Romantic Chuppahs
Estate Weddings
Elegant Head Tables

---

Copyright 2002 All Events Planning